Delivering today for a better future
Through AGIG's leadership, Australia's gas sector is on a pathway to a cleaner energy future. Hydrogen Park South Australia (HyP SA) is Australia's largest renewable gas project, and our pioneer project to realising a low carbon future.
Video: Watch a short video about Hydrogen Park South Australia
About Hydrogen Park South Australia
Located at the Tonsley Innovation District, HyP SA is an innovative energy project that produces renewable hydrogen gas.
Supported by the South Australian Government with grant funding of $4.9 million, HyP SA is aligned with the State's vision to leverage its wind, sun, land, infrastructure and skills to be a world-class renewable hydrogen supplier and to reach net zero emissions by 2050.
In late 2020, HyP SA first produced renewable hydrogen at site using water and renewable electricity through a process known as electrolysis as part of commissioning. On 19 May 2021 the facility was officially opened by the Premier of South Australia the Hon. Steven Marshall and the South Australian Minister for Energy and Mining the Hon. Dan van Holst Pellekaan.
The renewable hydrogen is blended with natural gas and supplied to nearby homes via the existing gas network. We are also supplying to industry via tube trailers (long storage tubes on the back of semi-trailers), and aim to supply the transport sector in the future.
A 5% hydrogen blend is the first step to lowering greenhouse gas emissions. We are currently extending our hydrogen footprint with projects considering up to 10% hydrogen blends before 100% conversion, such as the Australian Hydrogen Centre and Hydrogen Park Gladstone.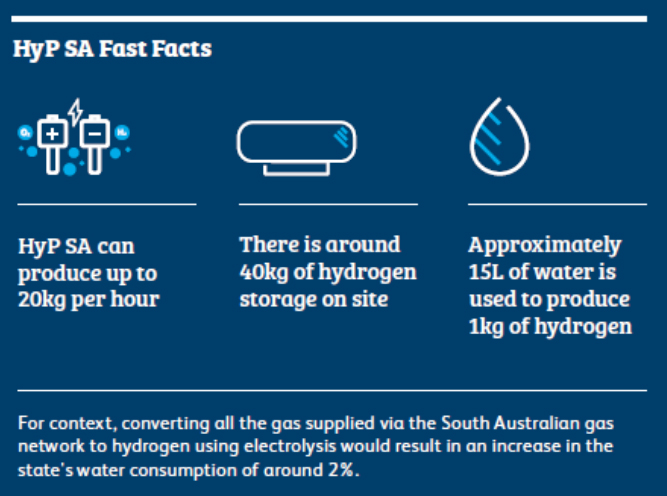 HyP SA has received a number of accolades in recognition of its role demonstrating the pathway to a cleaner energy future, including:
• 2020 SA Climate Leaders Awards, 'Business and Industry' category winner
• 2020 Australian Pipelines and Gas Association Environment Award winner
• 2020 Engineers Australia Australian Engineering Excellence Award winner
• 2020 South Australian Premiers Awards for Energy and Mining, Innovation and Collaboration' category commendation

Project timeline
Q1 2018 – Project funding agreed with the South Australian Government
Q3 2018 – Front End Engineering Design (FEED) complete
Q4 2018 – Electrolyser purchased
Q4 2018 – Tonsley site finalised
Q1 2019 – Preferred design and construction contractor selected
Q2 2019 – Community engagement launched
Q3 2019 – Development Application approved
Q4 2019 – Project construction begins
Q2 2019 – Electrolyser delivered to site
Q3 2020 – Project commissioning
Q4 2020 – Renewable hydrogen supply to industry announced
Q4 2020 – First renewable hydrogen production at site as part of commissioning
April 2021 – Commissioning Complete
19 May 2021 – First supply of renewable hydrogen blended gas to homes via existing networks, and to industry via tube trailer
Video: Hydrogen Park South Australia Development Time Lapse
Find out more
Learn more about the supply of hydrogen to customers via the existing gas network at blendedgas.agn.com.au
Download the Hydrogen Park South Australia brochure here
Watch our video on the low carbon future
Contact: kristin.raman@agig.com.au