Collaboration with industry and governments on integrating hydrogen
Building upon our demonstration projects Hydrogen Park South Australia and Hydrogen Park Gladstone, the Australian Hydrogen Centre (AHC) is the next step in our journey, delivering feasibility studies on blending 10% renewable hydrogen into towns and cities, and plans for a 100% hydrogen future.

Planning for our Low Carbon Future
Established at the end of 2019, the $4.15 million Australian Hydrogen Centre (AHC) is supported by a $1.28 million Australian Renewable Energy Agency (ARENA) grant, as well as the South Australian and Victorian Governments.

Over a two year period, the AHC will help to accelerate the hydrogen industry by:
• Developing detailed plans to blend 10% renewable hydrogen into selected regional towns in Victoria and South Australia
• Completing studies to decarbonise gas consumption in the entire states of Victoria and South Australia at levels of 10% and 100%
• Sharing the learnings from Hydrogen Park South Australia - de-risk other renewable gas projects

• Expanding the market for renewable electricity generation
• Establishing platform for other states to decarbonise their gas consumption by leveraging on the Victorian and South Australian feasibility studies
• Establishing a large domestic market for renewable hydrogen
Importantly, it will also raise community awareness on the use of hydrogen and how this technology may be deployed in the future.
"The natural gas network could be a key piece of infrastructure to support decarbonisation of the national energy system. The network has the potential to be used for the long-term storage of renewably produced hydrogen and limit the need for electrification alternatives, which can be costly."

"The development of a local hydrogen sector will underpin the investment in technology and skills to support the long term export opportunity. These studies will go a long way to identifying the possibility of using and storing hydrogen in local gas networks." ARENA CEO Darren Miller
Founding Members
AHC Founding Members include ARENA, South Australia's Department for Energy and Mining, Victoria's Department of Environment, Land, Water and Planning, gas and energy infrastructure businesses, AGN (part of AGIG) and AusNet Services, and leading renewable energy companies, ENGIE and Neoen.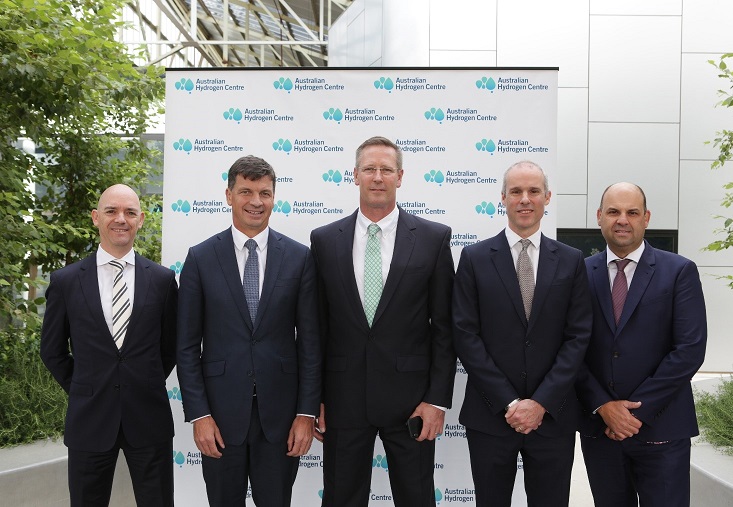 Image (From left to right): ARENA CEO Darren Miller, Federal Minister for Energy and Emissions Reduction the Hon Angus Taylor MP, South Australian Minister for Energy and Mining the Hon Dan van Holst Pellekaan, AGIG CEO Ben Wilson, and AGIG General Manager People and Strategy Craig de Laine at the Australian Hydrogen Centre announcement in early 2020.
Timeline
• Q4 2019: Project start date
• Q1 2020: Official announcement of the Australian Hydrogen Centre by the Federal Minister for Energy and Emissions Reduction the Hon Angus Taylor MP
• Q1 2020: Selection of Regional Towns report
• Q2 2021: 10% hydrogen blending in Regional Town feasibility report
• Q1 2022: State feasibility reports (10% blending and 100% hydrogen networks)
Find out More
• ARENA Project Page: The Australian Hydrogen Centre
• Minister for Energy and Emissions Reduction Media Release
• South Australian Government media release
Contact: Vikram Singh Vikram.singh@agig.com.au