Australia's first whole of network decarbonisation project
Hydrogen Park Gladstone (HyP Gladstone) continues AGIG's hydrogen leadership by extending our renewable gas footprint into Queensland and delivering Australia's first whole of gas network decarbonisation project at volumes up to 10%.
About Hydrogen Park Gladstone
HyP Gladstone builds on our Hydrogen Park South Australia (HyP SA) facility to deliver additional learnings and lower emissions for customers and the gas sector as a whole.
Supported by the Queensland Government with grant funding of more than $1.7 million, HyP Gladstone supports Queensland's 50% renewable energy by 2030 net zero emissions by 2050 targets and its Hydrogen Strategy by supporting Gladstone's vision to be a key hub for Queensland's domestic and hydrogen export industry, just as it is for natural gas today.
The $4.2 million HyP Gladstone facility will produce renewable hydrogen using water and renewable electricity from the local electricity grid, using a 175kW PEM electrolyser. The renewable hydrogen will be blended with natural gas, at volumes of up to 10% for supply to more than 770 existing connections on Gladstone's entire gas network.
Beginning production in 2022, HyP Gladstone's renewable hydrogen blend of up to 10% builds on the 5% target for supply to customers from HyP SA and will be the highest volume of hydrogen delivered by an existing gas network. It will also be the first project to supply a renewable hydrogen blend to commercial and industrial facilities via the existing gas network at this target volume.
After the Funding Agreement was executed with Queensland Government in July 2020, the electrolyser was ordered in August 2020. In January 2021, the preferred site was visited by the Queensland Minister for Hydrogen the Hon. Mick de Brenni MP and a positive announcement was made regarding the project's progress. Current work is focussed on securing the site, lodging the Development Application, and appointing partners to commence construction as part of an accelerated target delivery model.

In March 2021, AGIG together with Sumitomo Australia (Sumitomo), Gladstone Ports Corporation (GPC), Gladstone Regional Council (GRC), and CQUniversity announced they have joined forces to explore opportunities to develop a hydrogen ecosystem in Gladstone. The ecosystem will initially pursue domestic offtake and mobility solutions before moving to enable largescale export.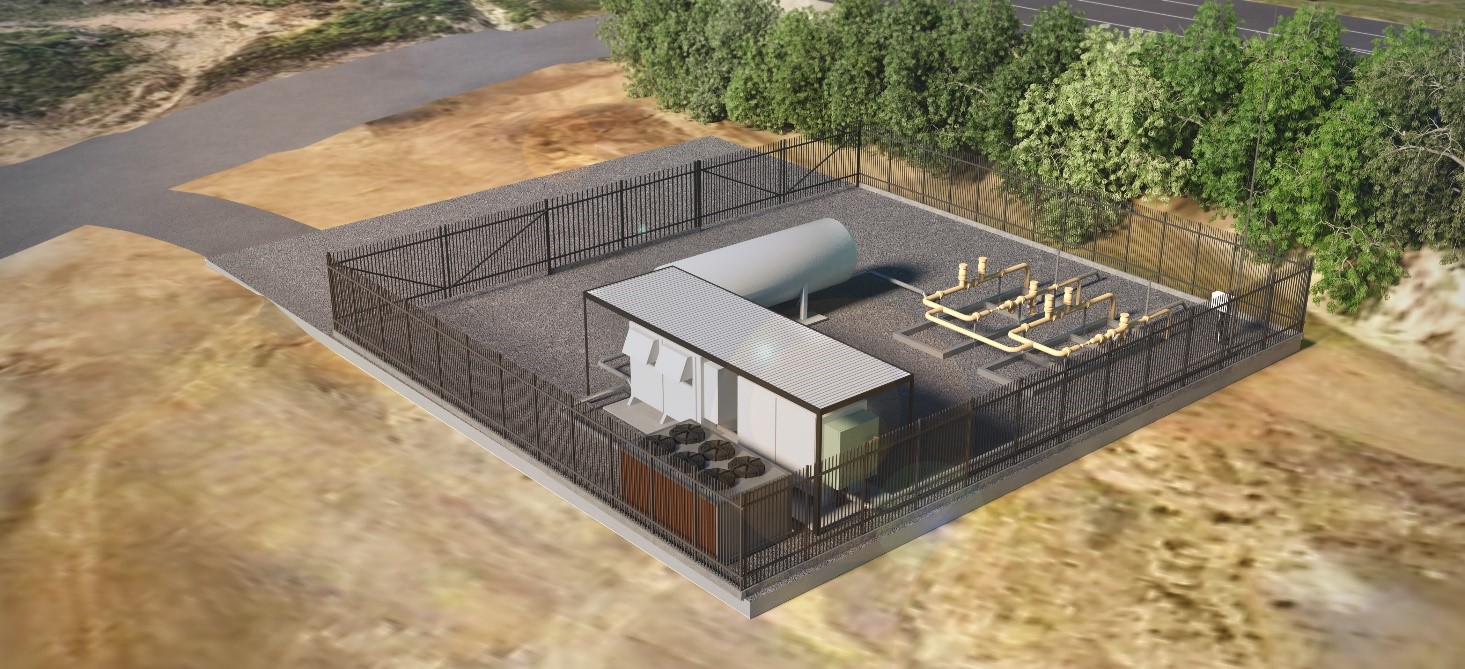 Image: Artist impression of the HyP Gladstone production facility
Project timeline
Q1 2020 – Project funding announced with the Queensland Government
Q2 2020 – Funding agreements signed and project commences detailed design stage
Q3 2020 – Electrolyser purchased
Q3 2021 – Gladstone Hydrogen Ecosystem work commences with Sumitomo, GPC, GRC and CQ University
Q4 2021 – Detailed design is completed and Development Application is lodged
Q2 2022 – Work commences at project site
Q3 2022 – First renewable hydrogen is produced for supply of blended gas to Gladstone
Find out more
• Queensland Government funding announcement
• Minister de Brenni statement
• Joint Media Release on Gladstone Hydrogen Ecosystem
Contact: owen.sharpe@agig.com.au