12 Dec 2022
AGIG Receives South Australia Premier's Community Engagement Award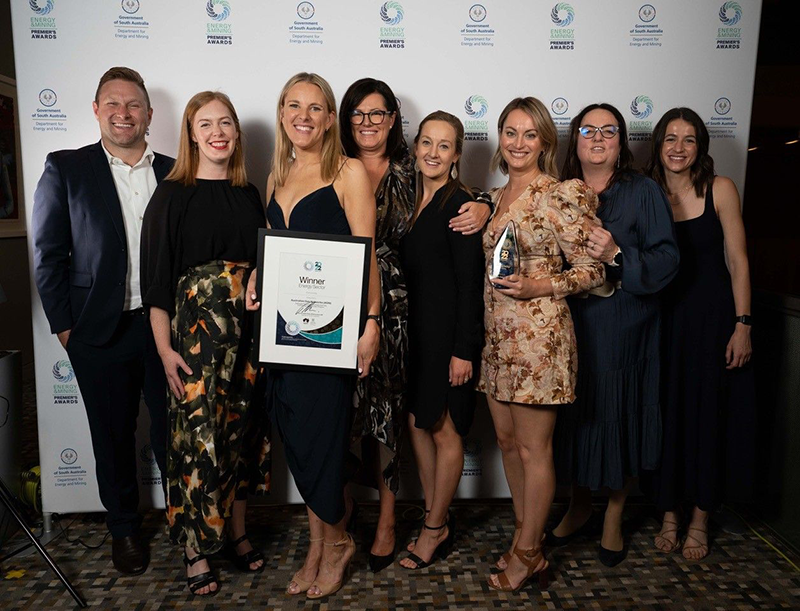 Australian Gas Networks (AGN), part of the Australian Gas Infrastructure Group (AGIG), is delighted to have won the 2022 South Australian Premier's Community Engagement Award for the Hydrogen Park South Australia (HyP SA) project.
HyP SA began supply of up to 5 per cent blended renewable gas into the AGN existing gas network to more than 700 homes in Mitchell Park back in May 2021, where residents have embraced their status as Australia's first recipients of renewable blended gas. By early next year, HyP SA will expand its operations to supply up to an additional 3,000 homes in nearby suburbs with a renewable gas blend.
AGIG Chief Executive Officer, Mr Craig de Laine, said: "AGIG is very proud and honoured to have been recognised for this award from the South Australia Premier Peter Malinauskas. It is a great recognition of the work our team does in engaging with the communities we serve.
"We thank the community and industry stakeholders associated with HyP SA for their support and participation of our engagement program."
"I would also like to thank the South Australian Energy Minister Tom Koutsantonis. Hydrogen Park SA would not exist without his leadership and that of the Labor Government more broadly."
AGIG is taking active steps to deliver renewable gas and aims to deliver at least 10% renewable gas across its distribution networks by 2030, with a vision of 100% renewable gas by 2040, and by no later than 2050.
Background

Australian Gas Infrastructure Group (AGIG) is one of Australia's largest gas infrastructure businesses with operations across every mainland state and the Northern Territory supplying approximately 2 million customers. Operations include 40,000km of distribution and transmission gas pipelines, 60 petajoules of gas storage capacity, gas processing facilities and remote power generation.
We have committed to deliver a number of renewable gas projects across the country and across the value chain.
AGIG plans to develop Hydrogen Park Murray Valley (HyP Murray Valley) – partnering with ENGIE - in Wodonga, Victoria. HyP Murray Valley will comprise a 10MW electrolyser using renewable electricity to produce hydrogen from 2024. Subject to approvals, the site will blend up to 10% renewable hydrogen into the existing natural gas network to supply more than 40,000 residential, commercial and industrial customers in Wodonga, Victoria and nearby Albury, New South Wales.
AGIG is also developing a hydrogen plant in Gladstone, Queensland.
AGIG's Vision is to be the leading gas infrastructure business in Australia - by delivering for customers, being a good employer, and being sustainably cost efficient.
For Further Information Contact
Kristin Raman – Head of Strategy and Sustainability, AGIG
M +61 402 858 978

James Wong – Marketing and Stakeholder Manager AGIG
M +61 409 962 827