2 July 2023
Key turns on Australia's first hydrogen home: unlocking future energy living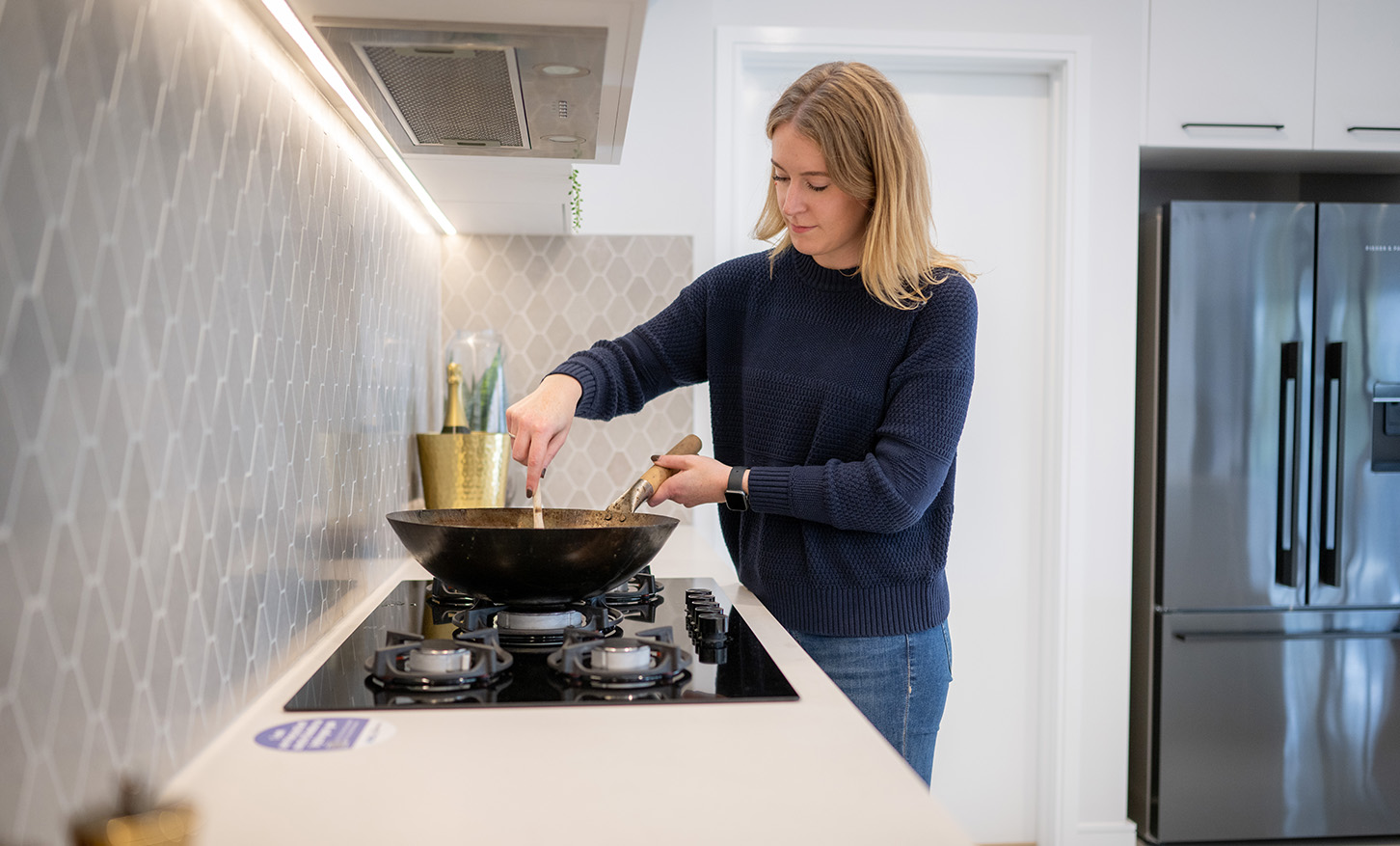 Australian Gas Infrastructure Group (AGIG) has unveiled Australia's first 100% hydrogen-powered home, providing a window into future low-carbon energy solutions for Australia.
AGIG's HyHome, located at the Dennis Family Homes display centre in Wollert, north of Melbourne, looks and feels like any normal home, except that many of its appliances run off hydrogen, demonstrating future energy use where natural gas is replaced entirely by carbon-free hydrogen.
AGIG CEO Craig de Laine said the development of hydrogen-compatible appliances represented a key step forward in the energy transition, meaning customers would be able to enjoy the benefits of using gas in a low-carbon future.
"We've known of the potential for hydrogen to be part of the renewable energy solution for industry and transport, but to demonstrate that gas appliances in the home can also run entirely on hydrogen is a game changer.
"It provides ongoing choice for households, and for the energy transition as it represents an additional source of clean energy to displace emissions and meet our net zero targets. HyHome shows that Australians can continue to enjoy the convenience and reliability of gas, while progressively moving towards lower and zero carbon energy sources.
"Our current gas network has been substantially upgraded and is of a world-class standard that can transport 100 per cent hydrogen to homes in Victoria with little additional investment.
We have the existing infrastructure, expertise and a network that passes millions of Australian homes that is ready to supply renewable gas to them - why wouldn't we make the most of that?"
Dennis Family Homes CEO Sean Ralphsmith is supportive of the project's sustainability potential for future homes.
"A focus on innovation, sustainability and the environment are all key drivers for Dennis Family Homes. We are therefore proud to be part of this world-leading project showcasing the potential of hydrogen as an alternative energy source to reduce the carbon footprint in powering the heating and cooking in the home of the future."
Mr de Laine said AGIG has worked with world-leading appliance manufacturers Rinnai and Electrolux to develop the hydrogen-powered hot water systems, cooktops and heating systems that feature in HyHome. These appliances have been installed in a typical Australian home using existing skills and techniques common in the plumbing industry.
Mr de Laine said the launch of HyHome is a significant part of AGIG's commitment to developing a hydrogen industry in Australia that delivers renewable gas safely, affordably and reliably.
"We know that many Australians love gas for its reliability, effectiveness and convenience. For many, it is an essential service and a critical part of their lives and livelihoods. Our customers tell us they want to continue with natural gas today and renewable gas in the future. Moreover, our customers want to be able to choose how they heat their homes in the same way they do today."
The unveiling of HyHome follows AGIG's recent announcement of one of Australia's largest hydrogen production plants in Wodonga, Victoria, which will join projects in Adelaide and Gladstone as part of AGIG's low-carbon transition plan to hydrogen-blended renewable gas for customers. For more information about AGIG and its hydrogen initiatives, please visit the company's website at www.agig.com.au.
Hy Home partner statements
Electrolux Marketing Director Richelle Barker
"At Electrolux, our philosophy is all about shaping better and more sustainable living for people around the world, so we're thrilled to be involved in such a progressive project in partnership with AGIG.
"We strongly believe in hydrogen as a clean, versatile and abundant energy source that has the potential to revolutionise the way Australians power our homes and businesses. "Hydrogen-powered appliances can run on renewable hydrogen, producing no carbon emissions and offering a sustainable alternative to traditional gas and electric appliances. We are excited to be working with AGIG to bring hydrogen-powered appliances to the Australian market. Our hydrogen-powered appliances offer customers a clean and efficient way to power their homes, while also helping to reduce their carbon footprint."
Rinnai Australia Managing Director, Lucas Van Raay
"HyHome is an exciting milestone in Australia's shift to a renewable energy future. Hydrogen is a clean, versatile and abundant energy source that can revolutionise the way Australians power their homes and businesses. The Rinnai hydrogen powered appliances used for heating and hot water in the HyHome are a world first, producing zero carbon emissions when powered by renewable hydrogen and offering a sustainable alternative to traditional gas and electric appliances.
"With hydrogen, Australian consumers can continue to enjoy the legendary comfort, convenience, efficiency and reliability of Rinnai gas heating and hot water, as they have for more than 50 years, whilst reducing their carbon footprint. We are very excited to be working with AGIG on the hydrogen transition."
Background
AGIG owns, operates and invests in infrastructure which delivers gas to more than two million homes and businesses. It powers generators, mines, manufacturers and household appliances and the combined network makes AGIG one of the largest gas infrastructure businesses in Australia.
AGIG manages over 40,000km of world-class distribution networks, more than 4,300km of transmission pipelines and 60 petajoules of storage capacity, valued at a combined $10 billion. We employ approximately 400 Australians with more than 1,600 contractors working on our business.
AGIG is leading the Australian renewable hydrogen industry, with the establishment of Hydrogen Park SA, the largest electrolyser in Australia, the construction of Hydrogen Park Murray Valley and several other renewable hydrogen and biomethane projects in development.
AGIG has a low carbon vision to deliver 100% carbon-free gas by no later than 2050, with at least 10% renewable gas blends to homes and businesses by 2030, in line with emissions reduction targets.
For Further Information Contact
Rachel Cameron – Head of Corporate Affairs
M 0425 199 184